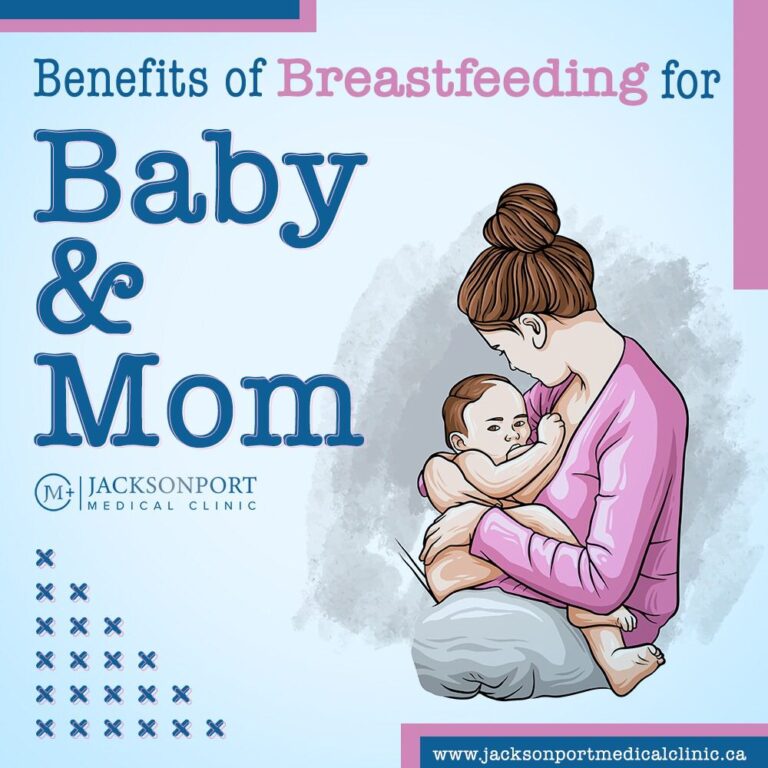 Breastfeeding Has Many Advantages for Both Mom and Baby
Breastfeeding has numerous health benefits for mother and child, both physically and mentally.
A baby who is breastfed has:
Higher immune capacities

Less gastrointestinal symptoms like diarrhea, constipation, gastroenteritis, gastroesophageal reflux, and preterm NEC (necrotizing enterocolitis)

Fewer respiratory illnesses like whooping cough, pneumonia, and RSV (respiratory syncytial virus)

A decrease in ear infections, particularly those that harm hearing

Less bacterial meningitis cases

A reduction in retinopathy of prematurity and improved vision

Lower infant mortality rates

Less SIDS (Sudden Infant Death Syndrome) occurs. 

Fewer illnesses overall, fewer hospital stays

Up to six times fewer parents miss work than non-parents.
Breast milk offers a wealth of readily assimilated nutrients, immune-boosting enzymes, antioxidants, and live maternal antibodies. The mother's more developed immune system produces antibodies to the pathogens to which she and her child have been exposed. 
Immunoglobulin A coats the baby's developing intestines, preventing germs and allergens from penetrating. These antibodies get into her milk and help shield her child from disease. Additionally, infant-soothing substances are found in breast milk.
Children who are breastfed may grow up healthier because of:
Fewer cases of asthma, eczema, and allergies

Fewer childhood cancers, such as lymphomas and leukemia.

Lessening of type I and type II diabetes risk

fewer cases of Colitis and Crohn's disease

Lower incidences of respiratory disease

Fewer orthodontic and speech issues

Less cavity-filled

Less chance of childhood obesity in the future

Improved brain development

Increased resistance to infection
Both teens and adults can find life-changing benefits:
Less likely to develop lupus and rheumatoid arthritis

Less likely to develop adult heart disease

Reduction in the risk of multiple sclerosis

Lower pre and postmenopausal breast cancer incidence rates
Mother's physical health improves when she breastfeeds:
It helps women lose weight more quickly after giving birth by burning an additional 500 calories per day to develop and maintain a milk supply.

Induces the uterus to contract and shrink back to its original size.

Postpartum bleeding is less.

Lower incidence of UTIs

Lower likelihood of anemia

Postpartum depression risk is lower, and mood is happier.
Emotionally healthier for mum:
Breastfeeding causes the release of the calming hormones prolactin and oxytocin, which help the nursing mother feel happier and less stressed.

Greater assurance and self-worth

Increased serenity. Breastfeeding can support the entire family's physical, mental, and spiritual wellness. Overall, breastfed babies cry less and experience fewer childhood illnesses.

Many people believe that nurturing relationships during the first few years of life helps children and adults with social and behavioural issues. Mother and child bonding on a physical and emotional level is strengthened. Breastfeeding encourages more holding, stroking, and skin-to-skin contact.

Breastfed babies learn to trust their caregivers and their mothers learn to read their baby's cues. This influences the infant's early behaviour.
Breastfeeding may result in the following long-term benefits:
Lowered breast cancer risk

Lowered ovarian cancer risk

Reduced risk of lupus and rheumatoid arthritis

Decreased endometriosis

Ageing causes less osteoporosis

Reduced diabetes

A decrease in cardiovascular disease